Friday Wrap-Up # 2 – Google Doodle, Apple iPhone, Microsoft & More
There is no lack of both original and rehashed efforts in advertising and marketing. We are back again with all the latest, important marketing news and marketing efforts that made waves this past week.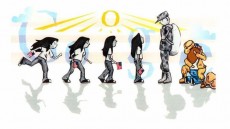 1. Google Doodles are sure to leave behind a vast legacy, should they ever cease to make new ones in the future. The best part are the Doodle competitions that result in some extremely interesting submissions that pour in from all over the world. This was the fourth consecutive year of the competition and the theme was simple – to illustrate your 'best day ever'. Shown here is the winning entry by 17-year old Wisconsin resident Sabrina Brady, and it's easy to see why it touched a cord.
2. Apple new ad for the iPhone breaks away from its usual style to adopt downtempo tunes and grainy, even Instagram-like visuals – establishing itself even more firmly as the hipster's go-to device. The 60-second spot claims Apple has more music lovers than any other type of smartphone, however the same is based on only iTunes sales data, which seems a bit arbitrary, given the many other popular sources of music available.
3. The new Microsoft ad for Windows 8, though, isn't chancing any subtlety. The 30-second ad basically takes potshots at 3 things Apple – Siri, the iPad, and Apple's marketing, and succeeds hilariously.
4. This one is a definite bonus! Kmart's recent ads have all been able to elicit a laugh or two from everyone who watched them, and their latest 'Big Gas Savings' campaign combines toilet humour innuendos with side-splitting, punny sketches for an even better impact. See for yourself:
Did you like one or more these campaigns? We'd love to hear your opinion – let us know in your Comments!