Search Engine Marketing | Specialist
Search Engine Marketing (Aka : Paid Search, Pay Per Click Advertising, SEM Search Engine Advertising Or PPC) Specialist
Imagine if you can: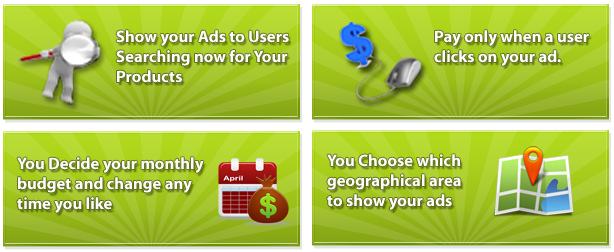 Too good to be true…………….
Welcome to the World of Search Engine Marketing (SEM) where you Pay Per Click (PPC) only.
We are a Specialist Search Engine Marketing Company. In the world of Online|Web Marketing|Advertising, Maverick Mav provides full service Paid Search Advertising Campaign Management and Search Engine Optimisation.
Outsource your Search Engine Advertising Campaigns to us and we will work hard to get you those valued 'clicks' and then help convert 'clicks into customers'. Further, we will continually, optimise your campaigns to drive down your click costs, write catchy ad copies and increase Traffic and Sales.
What does our PPC Service include:
Our PPC Campaign Management service is one of the most comprehensive & includes sophisticated 'Search Engine Marketing' Campaign planning and execution strategies that will maximise your ad spend value and provide more visibility than your competitors.
1. Analysis & Set-up:
To begin with, we analyse your market, competitors and 'Search Engine Marketing' landscape viz. a viz. products and services your offer through your website.
2. Keywords 'Discovery and Optimisation' :
Keywords are 'Key to a successful Search Engine Marketing Campaign (e.g. Google AdWordsTM ) Strategy. The ads appear when users search in Google for the keywords you have selected during the PPC campaign set-up stage.
We discover 'performing & profitable' keywords and then constantly analyse, discover and optimize your keyword list to deliver better results against competition. We use strategies like 'Negative Keywords' 'Broad Vs. Exact' Matching, Time Scheduling to identify performing vs. non-performing keywords.
3. Ad Copy Creation & Optimisation :
We plan, write and continually tweak your ads using catchy & 'call to action' copy. This helps both in increased 'Click Through Rate' and Higher Placement.
4. Balancing Cost Vs. Placement :
We constantly analyse Cost Vs Rank Vs Traffic of your PPC ads to deliver optimal results. This is an ongoing 'work in progress' exercise as your existing and new online competitors keep changing the 'rules of engagement'
v5. A/B & Multivariate Testing (Ad copy &s Landing Page):
We constantly rotate and show different landing pages and Ads to visitors to concretely analyse what is working and delivering a better result.
6. Optimising Results:
Increasing Visitors and converting them into customers – Profitably, is our single minded focus. During your entire Search Engine Advertising campaign, we constantly monitor, analyse and optimise for increased ROI
7. Tracking and Analytics:
We install Google Analytics on your website that helps us track and analyse many aspects of your Pay per click campaign. Observations from this Analysis, help us to then go back and optimize individual aspects of your PPC campaign including Keywords, Landing Page, Conversions, Ad Copy, etc.
8. Reporting:
We regularly provide reports on performance of your Search Engine Advertising Campaign.
SEM PRICINGS
Our SEM service is one of the most comprehensive and affordable
Unlike some of our competitors, we do not limit the number of tweaks and iterative cycles. As long as you have a PPC campaign managed through us, we continue to monitor, analyse and tweak various aspects of your SEM campaign. Such a practice, in our view, provides the best 'bang for your buck'. Remember, running a half baked campaign can cost you dearly.
Our pricing depends upon factors like competition, number of keywords, industry vertical (some industries e.g. finance, travel require more analysis and optimisation).
Please Contact Us for an obligation free analysis and quote.